ABOUT PEOPLES JEWELLERS CANADA
Peoples Jewellers is the largest retailer of diamonds, fine jewellery and watches in Canada. As a mid-priced jewellery retailer, Peoples offers its customers quality diamonds and jewellery featuring predominantly their own in-house designs at affordable prices. Peoples popularity lies in its wide assortment of timeless pieces as well as a commitment to making fine jewellery accessible to the general public.
Peoples success story began in 1919, when the family-owned business became the first jewellery company in Canada to sell fine jewellery on a time-repayment plan. This innovative structure took diamonds and jewellery beyond their usual upper-class customers-base and brought in significant business for Peoples Jewellers. By 1957 Peoples had established itself as the largest credit jeweler in the British Commonwealth with locations across the country.
In 1999, Peoples Jewellers was bought by popular American jewellery retailer, Zales. After the acquisition, Peoples continued to grow as a midmarket jeweler, opening new locations in malls and shopping centers as a further move to make fine jewellery purchases accessible and unintimidating. Today, Peoples Jewellers has a solid reputation both as a designer and retailer of quality diamond jewellery. With over 150 locations, Peoples continues to offer credit programs and repayment plans to its customers and frequently offers promotional discounts that make their pieces difficult to resist. However, if you can't find what you need at Peoples, then you may want to check retailers like Ben Moss.
CONFLICT-FREE GUARANTEE
Peoples Jewellers might offer diamonds at competitive prices, but that doesn't mean they compromise on quality or ethics when it comes to the sourcing of their product. All diamonds sold at Peoples go through the Kimberley Process Certification Scheme (KPCS) which ensures they are sourced from conflict-free areas. So rest assured that your diamond and diamond-containing jewellery has been purchased from legitimate suppliers and fully adheres to the United Nations Resolutions!
GETTING THE DEALS
The only thing more exhilarating than getting your beautiful jewellery, is applying a money-saving coupon to your order! Follow these quick steps to take advantage of the deals:
Click on the deal you'd like to use. The Peoplesjewellers.com website will open in a new tab.
If the deal you want is a sale on the Peoplejewellers.com website, the applicable page will open and the prices will already reflect the sale. Pick your pieces and proceed to checkout as usual.
If the deal you've picked is a coupon, remember to copy the coupon code for later use.
Select your jewellery on the Peoplesjewellery.com website. Once you've placed an item into your bag, your shopping bag will automatically open and show you a summary of your items.
Paste the coupon code you've copied from this page into the promotional code field directly below your item summary and above your subtotal. Click "Apply".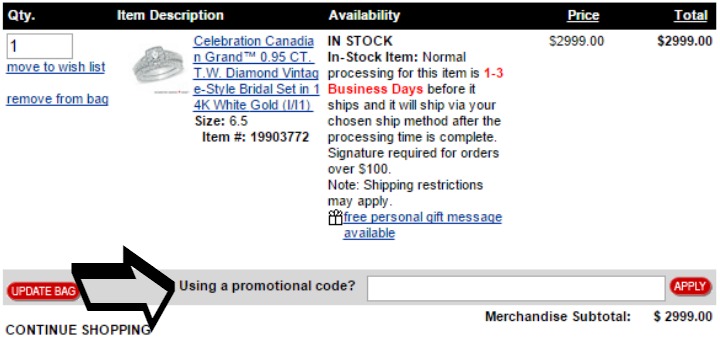 GOOD TO KNOW
If you tend to change your mind, Peoples Jewellers offers 60-day returns on their jewellery and 30-day returns on their watches. Returns can be made in-store or by mail and the process is simple and hassle-free.
Peoples offers complimentary gift presentation with all their jewellery purchases. So if gift wrapping is not your forte, let the experts help you out with a beautiful gift box and even a personal gift message.